Home Learning
Please find below plans, resources and activities you can follow while you are at home with your children.
This will be updated regularly by Mrs Preston/Mrs Fowler. They can be contacted as usual via:
Twitter is the most regularly updated channel of communication and a great forum for sharing helpful resources and to share what we're getting up to.
Please do keep in touch and lean on us for support - we are all in this together! Our handle is @CarltonMiniY2
Stay safe, take care and embrace the opportunities in this strange time,
Mrs Fowler and Mrs Preston
Dinosaurs Week - wc 30th March
Mrs. Preston is in school all week so just give her a ring if you fancy a chat!
This week is all about celebrating the wonderful world of dinosaurs. Here is a timetable to show you what we're up to...
Here are all the resources you might need...
Daily Workout with Joe Wicks, over on his YouTube channel - https://www.youtube.com/channel/UCAxW1XT0iEJo0TYlRfn6rYQ
Or, Cosmic Kids Yoga if you prefer - https://www.youtube.com/user/CosmicKidsYoga
Monday
Maths - For the next couple of weeks, we are going to revise fractions.
Please go to White Rose Maths for today's video tutorial - You are looking for Week 1, Lesson 1 (Make equal parts)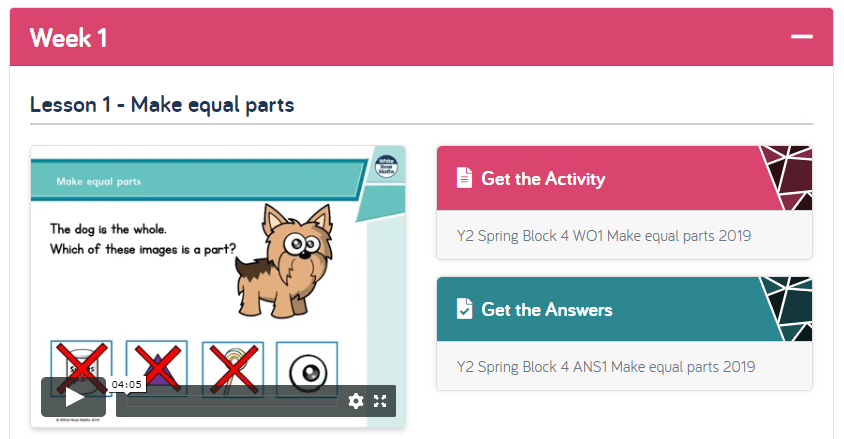 Here are the worksheet and answers!
Remember: If you don't have access to a printer, just do what you can in your exercise books - work straight from the screen! What is really useful is to check and talk through any errors with your child, just as we would at school. We try to have a positive ethos towards feedback in class as we know this is what helps to grow our brains!
Home learning hack: Make homemade resources like these straws to support you with maths at home!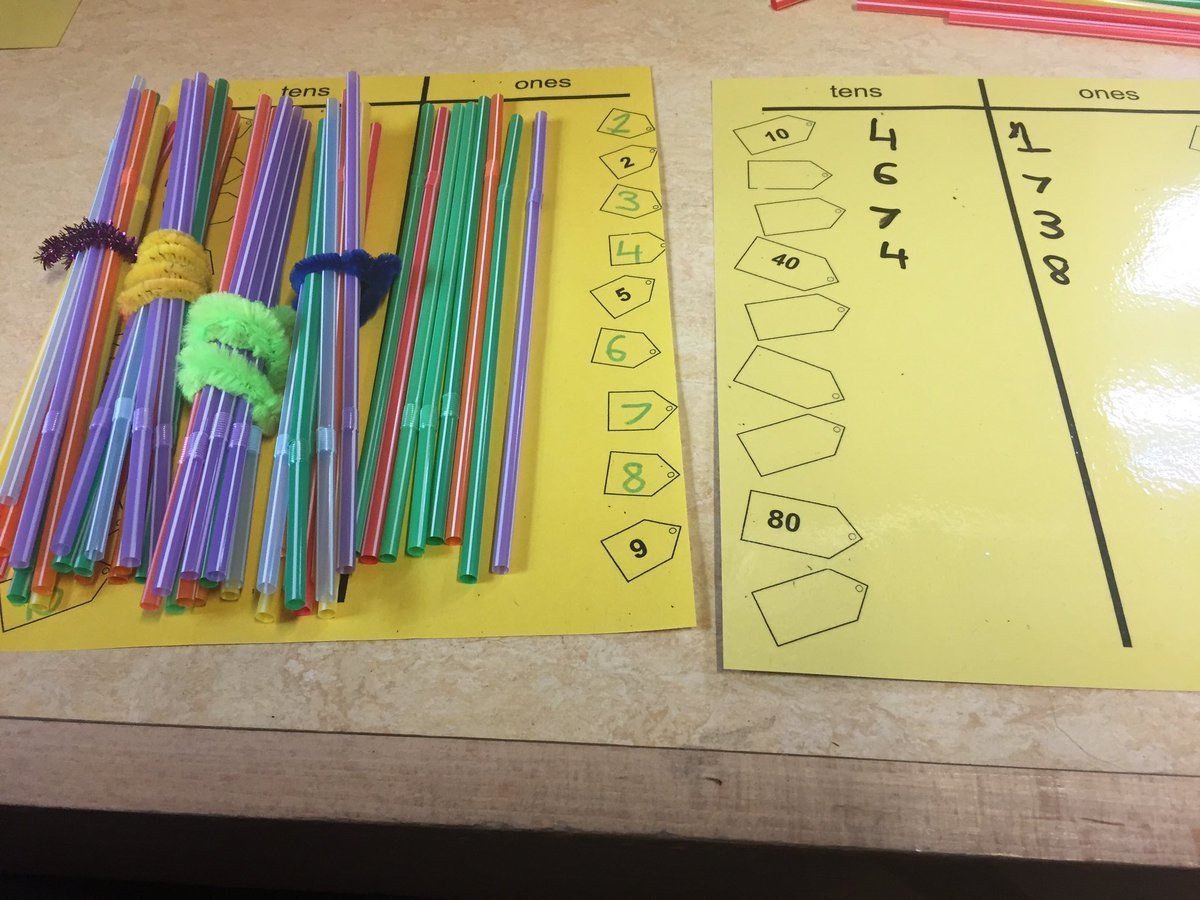 Reading - This eBook will help you with your English challenge this week but on maths days, I am setting some reading and questions.
Today, you should read pages 1-6 before answering these questions in your book:
p.1 What family of creatures did dinosaurs belong to?
p.1 Which word means that dinosaurs no longer exist?
p.1 Find and copy two things that might have caused dinosaurs to die out.
p.5 How many teeth did pterodactyls have?
p.6 Think about what you eat. Are you a herbivore, carnivore or omnivore? Explain why.
Creative - Dinosaur Eggs - It's up to you if you want to make yours look realistic or crazy (have a look online for some ideas). Enjoy getting messy to make this today then be ready to paint them later in the week!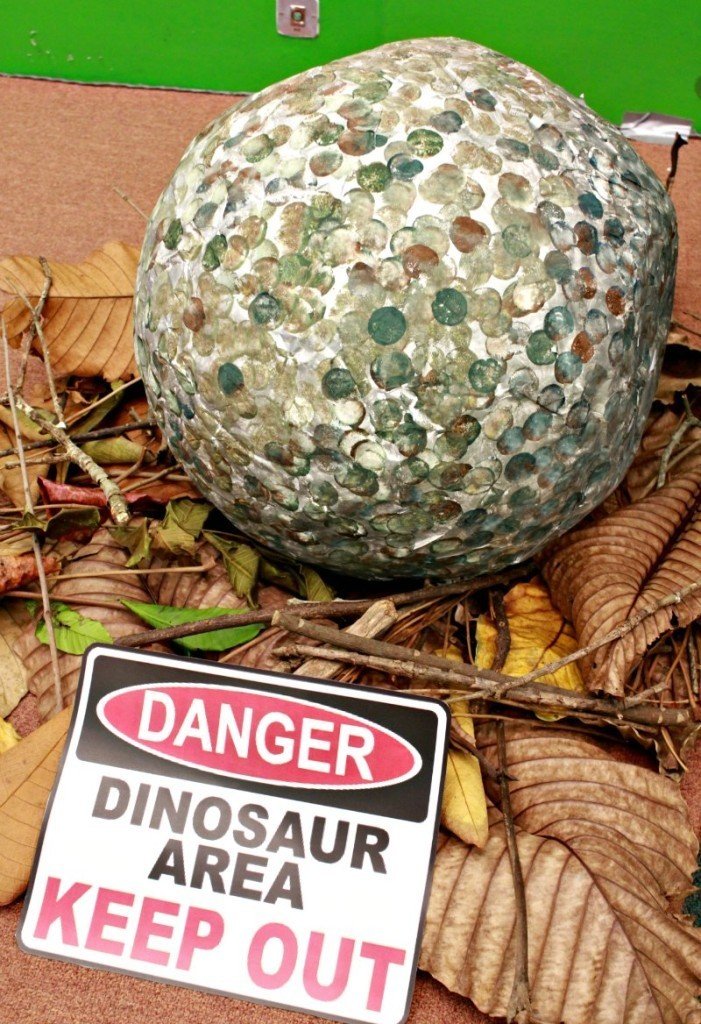 Home learning hack: You could use PVA glue mixed with water if you can get hold of some, or make the flour mix from these instructions!
Tuesday
Maths - Please go to White Rose Maths for today's video tutorial - You are looking for Week 1, Lesson 2 (Recognise a half)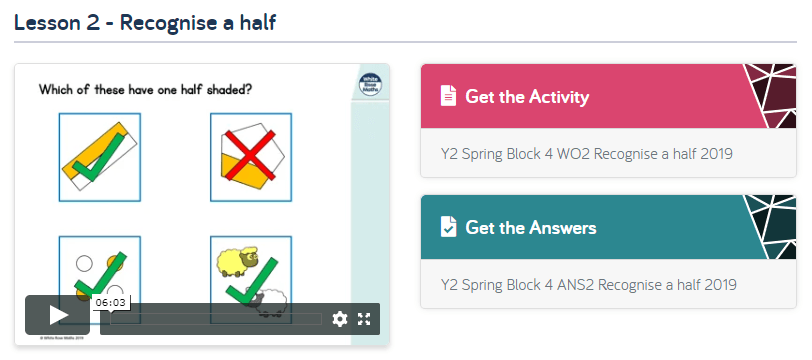 Here are the worksheet and answers!
English - Today, you will need to collect facts for your dinosaur reports! RAWR!
In school, we are popping pages 1-12 from our eBook up around the room to read and research. We are then adding our facts to this sheet ready for writing on Thursday.
Art - This afternoon, we are making fossils from clay. We are using dinosaur figures from school to press into the clay and then will paint them later in the week to make them look like genuine fossils!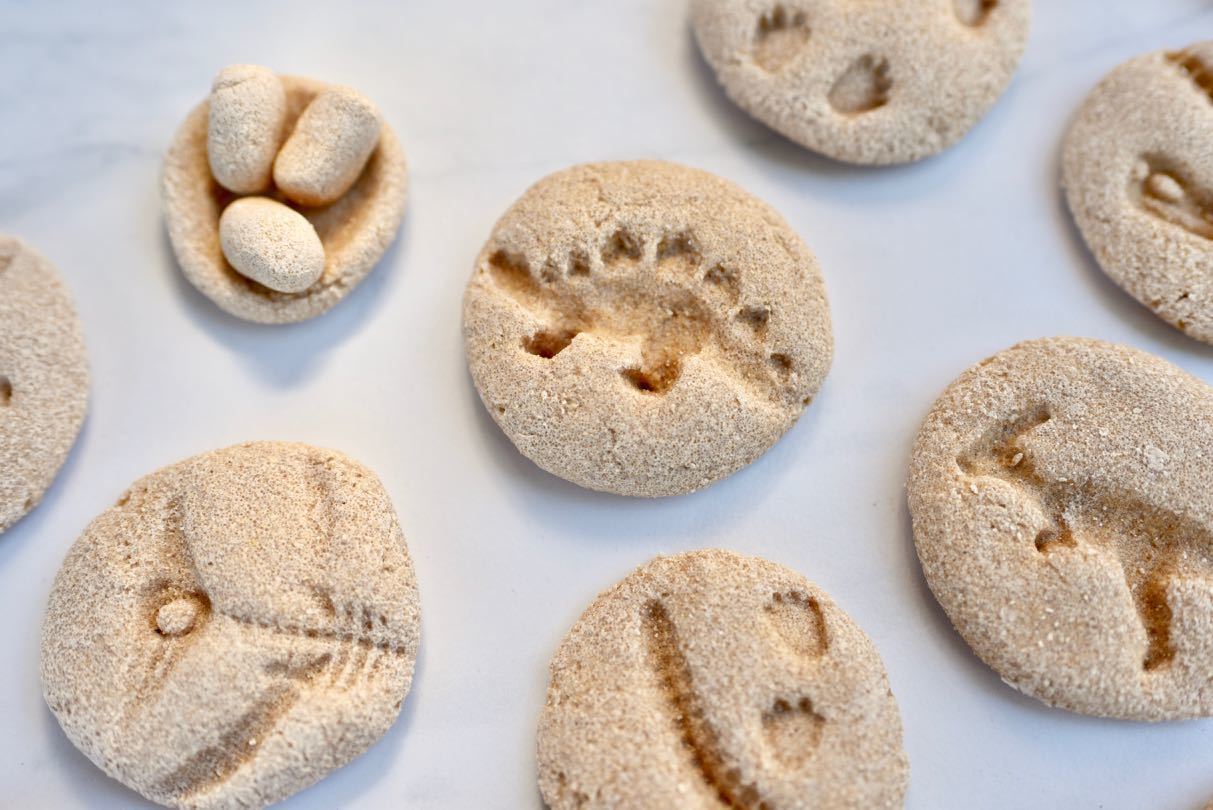 CBeebies have a video showing you how to make them here.
Home learning hack: Make your own playdough to make your fossils at home if you don't have clay or the ingredients for the salt dough.
Wednesday
Maths - Please go to White Rose Maths for today's video tutorial - You are looking for Week 1, Lesson 3 (Find a half)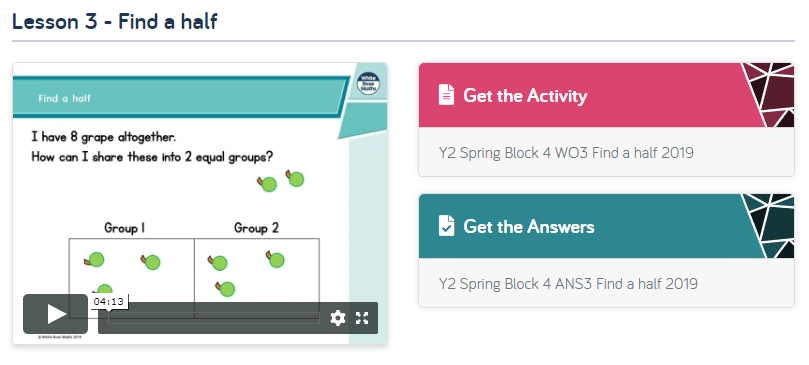 Here are the worksheet and answers!
Reading - Read pages 13-20 of the Dinosaurs eBook before answering these questions in your book:
p.13 What helped dinosaurs hunt and catch prey?
p.14 What features did the Ankylosaurus have to defend itself?
p.15 Why did a triceratops have a 'frill'?
p.17 How long were the teeth of a tyrannosaurus rex?
p.18 What is a palaeontologist?
DT (Cooking) - This afternoon, we are making chocolate chip cookies. The dough will represent the rock and chocolate chips will represent fossils. When they have cooled down, we're going to use toothpicks and imagine being palaeontologists to carefully excavate the fossils from the rock!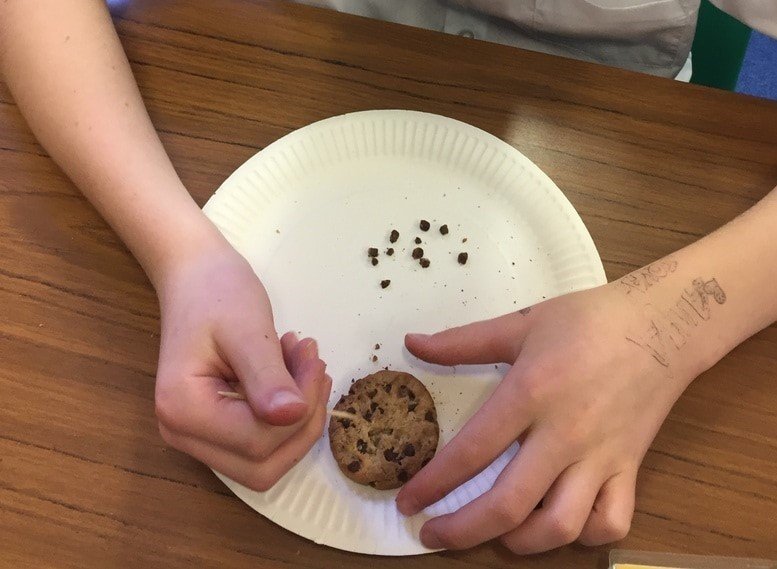 Thursday
Maths - Please go to White Rose Maths for today's video tutorial - You are looking for Week 1, Lesson 4 (Recognise a quarter)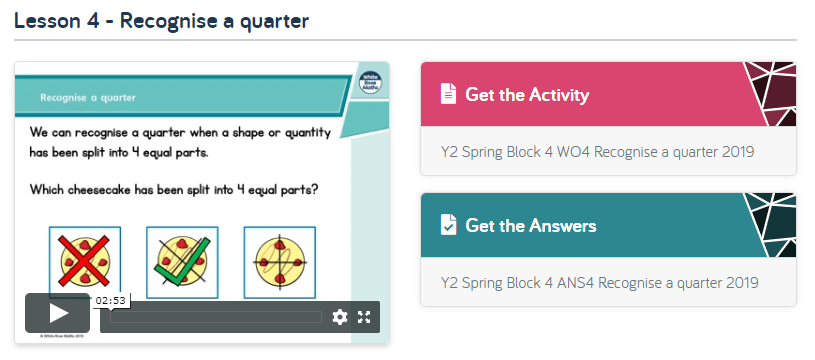 Here are the worksheet and answers!
English - Today, you will write your dinosaur reports! Here is a WAGOLL. Use your notes from Tuesday to write your report on this sheet. Or use two pages in your exercise book to make a booklet, like this: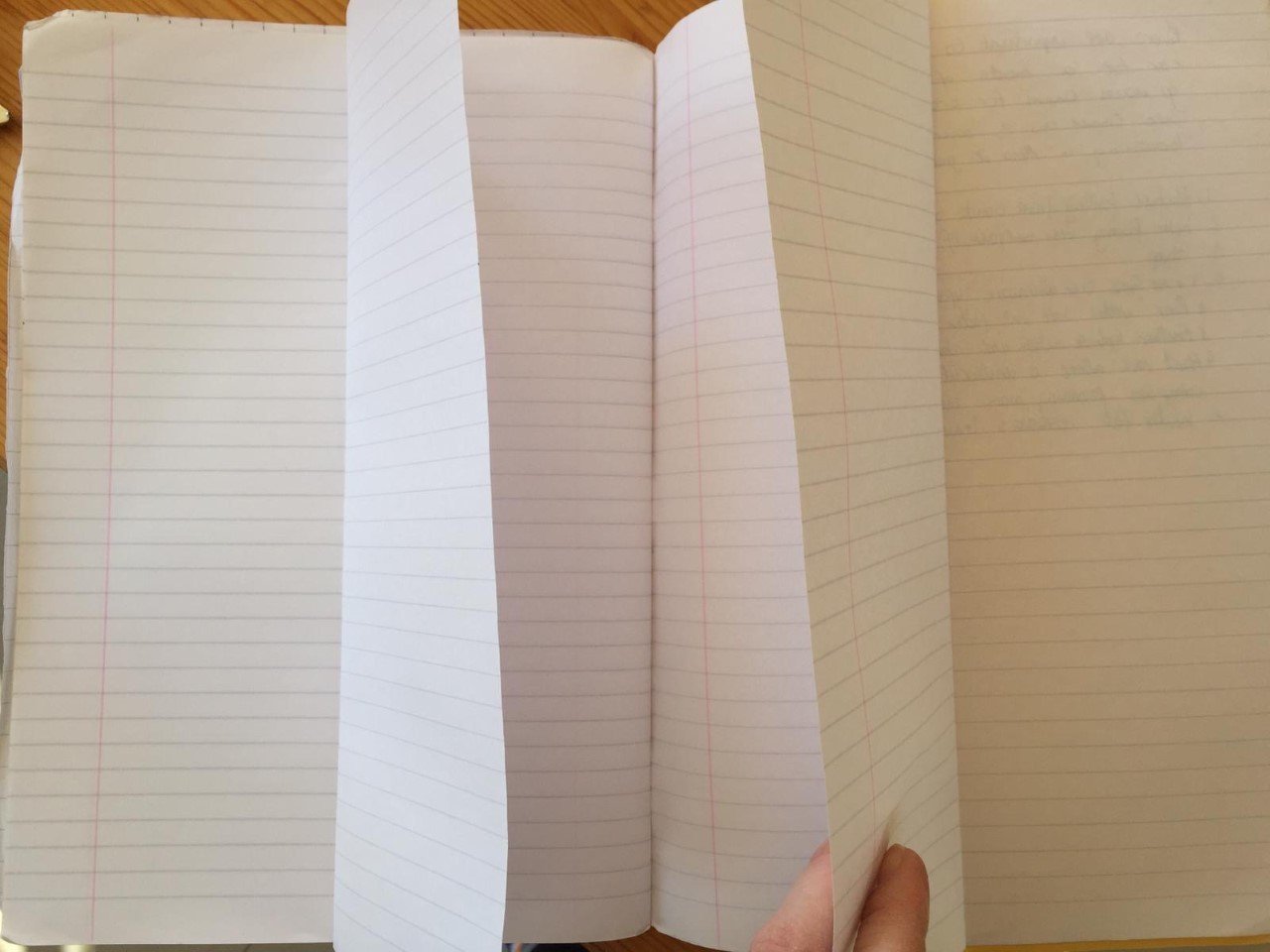 Science - One of the theories as to why dinosaurs may have died out was due to volcanoes! We are making our own erupting volcano today using a plastic bottle and sand!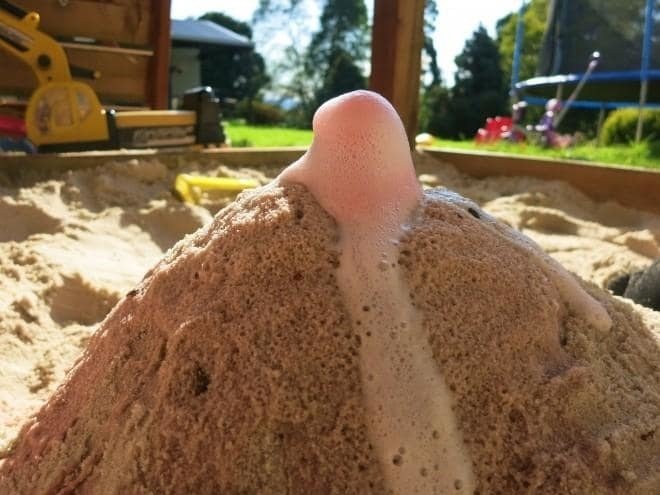 Follow Science Bob's instructions to make your own at home!
We're also hoping to finish painting our dino eggs and clay fossils!
Friday
Maths - Please go to White Rose Maths for today's video tutorial - You are looking for Week 1, Lesson 5 (Find a quarter)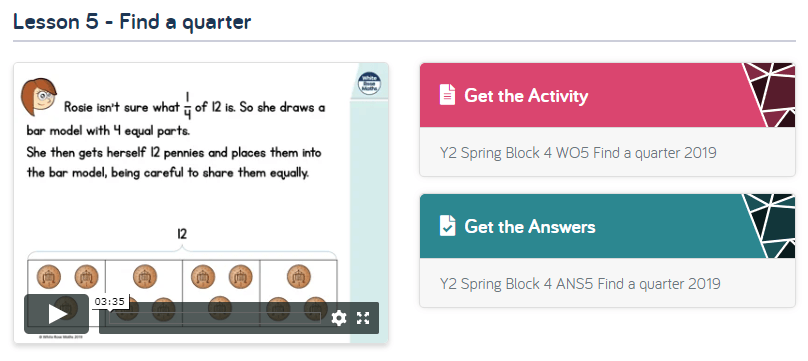 Here are the worksheet and answers!
Reading - Finish reading the Dinosaurs eBook before trying the quiz at the end! How much have you remembered?
PE - We're following the All Stars Cricket planning for our Friday PE sessions! Here are the 4 games from Lesson 1 if you'd like a go at any, or all!
Home learning hack: If you don't have the correct equipment at home for cricket, you could...go on a bike ride, make an assault course in your garden, play a ball game with a family member, walk your dog, walk close to where you live and see how many rainbows you can spot in people's homes!
Golden Time - We might treat ourselves for all our hard work this week and watch The Good Dinosaur!
Please do tweet us all of your home learning and lovely photos - we love seeing how hard you're working and your huge smiling faces!
Useful Resources
Please use the following information and useful links to continue with your learning at home during this unsettled period:
Guided Reading
Oxford Owl have a free eBook library to keep up your reading at home.
Username: class1&2
Password: keystage1
Use your reading record bookmark to answer comprehension questions.
Choose some reading comprehensions from Twinkl.
Audible are making lots of audiobooks free to access.
Twinkl have lots of eBooks available to read with linked activities!
Maths
Please follow our Calculation Policy here. - it is important that we keep our methods consistent for SATs.
Early Bird Maths - please give children a range of number sentences for the 4 operations (+ - x ÷). Please encourage your child to use our school methods to solve the answers independently before checking the answers with them. You could also use Y2 Arithmetic Tests from Twinkl.
Abacus games as set for homework - please continue with these as usual.
Our next unit of learning in Maths will be shape - we follow the White Rose Scheme of Learning and we usually focus on one small step a day, in depth. Please follow this document to support you with this. It will give you guidance for teaching and questions for the children to complete.
Primary Stars is also a great resource which matches with the White Rose SOL and provides free teaching slides.
Classroom Secrets have lots of interactive resources and teaching resources made free for a limited time.
English
Week 4 - Focus on The Twits - we are practising expanded noun phrases, writing character descriptions of The Twits and writing letters to the RSPCA to complain about their treatment of animals.
Spelling
Please focus on being able to read, and write from memory, the Y2 Common Exception Words. Find them here.
We are also working on the suffixes -ly -ful -ness -ment
Other handy hints
Twinkl are offering a free subscription for a month to support parents with home learning. They have some great resources on all the subjects we teach. Use the promo code: UKTWINKLHELPS
Lots of other companies are releasing free home learning packs, including: TTS, Hamilton Trust, Classroom Secrets, Pobble etc.
You could also start making your way through the list of 'Things to Do Before You're 11 and Three-Quarters' - find it here. We'd love to see you making your own learning journey scrapbook to see what you've been up to!
Comments (0)
There are currently no comments.
Helpful Information
We will be trying to go outside into our Secret Garden for part of Wednesday afternoon. So we will be having Wellies on Wednesday' as often as possible, please check the class letter to see if we are planning an afternoon outside. Please could the children bring named wellies or shoes that can get muddy and some trousers for gardening in on these days. If anyone has any old tools we could have we would also be very grateful.
Organisation:
Day

Staff

Reminders

Monday

Mrs Preston

Tuesday

Mrs Preston

Wednesday am

Mrs Preston

Wednesday pm

Mrs Fowler

Wellies in school

Thursday

Mrs Preston and Mrs Fowler

PE kit in school

Spelling test

Friday

Mrs Fowler

PE kit in school

Homework (Spellings/Abacus games) given out
Mrs Shorrocks supports us every morning.
Getting in touch - If you need to contact us to discuss anything, we are always happy to help. Please feel free to catch us on the yard, make an appointment or email us:
Thank you for your support,
Mrs. Preston and Mrs. Fowler