French Intent
At Carlton Miniott Academy, we value French as a way of providing pupils with an opening to other cultures in order to deepen their understanding of the world. Our French curriculum aims to inspire pupils to express their ideas and thoughts in another language, and to understand and respond to it's speakers, both in speech and in writing. Learning French also promotes new ways of thinking, both across languages and culturally, and provides the foundation for learning further languages, equipping pupils to study and work in other countries.
French Implementation
How is the subject is taught at Carlton Miniott Primary Academy?
At Carlton Miniott Academy, French is taught through the "North Yorkshire Scheme of Learning for Primary French" and is taught formally in Years 3 to 6. Below are the units of work and how French teaching is developed across Key Stage 2 through the teaching of themes such as Myself, Food and Animals.
French Scheme of work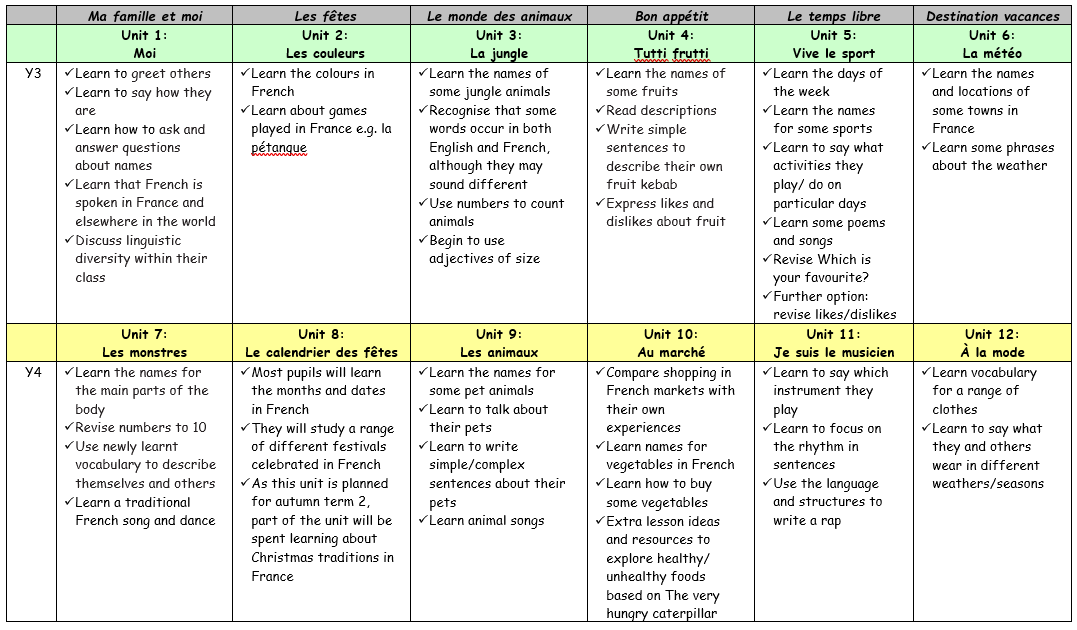 The children study four key areas of French throughout the Key Stage. These are::
Listening to spoken French

Reading Written French

Writing in French

Speaking in French
Pupil Feedback
The school implemented a `keep Up Not Catch Up' (KUNCU) approach to learning. In lessons, teachers monitor work carefully and give immediate feedback to pupils. his not only gives quick praise to pupils who have successfully addressed an area of the learning objective but helps them address misconceptions. Teachers are able to adapt their teaching based on this. The French Curriculum regularly returns to concepts such as number, alphabet, classroom instructions and greetings to embed these important concepts.
Learning Environment
Pupils work is mainly speaking, listening and responding. There is an element of written work within each unit and this is completed in a `French Book' or for display. We encourage pupils to produce neat work that mirrors work in other subjects, like English writing.
Resources
To support the teaching of French, the Scheme of work has all supporting Powerpoints and activities linked to each topic theme. In addition, there are a number of French dictionaries that pupils can access, as well as a large variety of French fiction and non-fiction texts that also link to topic themes. Furthermore, there are a number of discs containing songs and rhymes that the children can listen and respond to within lessons.
Assessment and Tracking of Pupil Progress
Staff use Insight to both record and monitor pupil progress in French. Assessment is linked to 'Rising Stars NC14 Framework' . Assessment is an ongoing process and is used to identify and enhance pupil learning. The Long Term Plan at the front of each Scheme of Work highlights the assessment opportunities that will be addressed within a particular theme/topic.
Staff Subject Knowledge and Continuous Professional Development
The subject leader (through the analysis of pupil work, pupil voice, discussions, assessment data and subject monitoring) will identify any development areas in subject knowledge. Staff questionnaires and discussions (including staff meetings) will also identify areas of subject knowledge that may need enhancing. The subject leader will give feedback and will lead training sessions in staff meetings, She will also identify external training that may be utilised to develop staff skills and knowledge.
French Progression