Welcome to our Reception Class Home Learning Page
This page is for children who are self-isolating due to Covid 19.
Thank you for all the hard work you are doing at home.
Mums and dads, you are doing an amazing job.
Thank you for using the suggested activities and for sending your photos, videos and comments to me via Tapestry.
If you need further support, please don't hesitate to contact me via email.
l.mallett@carltonminiottacademy.org
Facebook - Class R at Carlton Miniott Primary Academy
Teams
Hopefully everyone has received their login details via email.
Please contact school immediately if you are having any issues.
Phonics Play
This is a fantastic site and the subscription is cheap and well worth it.
Spelling Shed
Log in details are in the front of your child's Reading Diary.
We will be using this site for daily spelling practice.
Tapestry
Please ensure that you are able to access your Tapestry account.
I can send you links to reactivate your account if you have any issues.
White Rose Maths
Last summer, the White Rose Maths team developed some lovely maths lessons themed around a different book each week.
These lessons can be found in the Home Learning/Summer Term Archive/Early Years section.
No log-in or password required.
Nursery Rhymes and Songs - BBC Teach
This is a great selection of songs and rhymes that we often use with the children.
PE and Physical Activity
It is so important for both physical and mental health that children get enough exercise.
Week beginning Monday 28th February
Mr Wolf's Pancakes
Please see the timetable below for your daily activities.
All of the information and resources you need are uploaded to Teams.
The login details are in your child's reading diary. Please add academy.org to the username.
Please use Tapestry to send me photos and videos of completed assignments.
Thank you.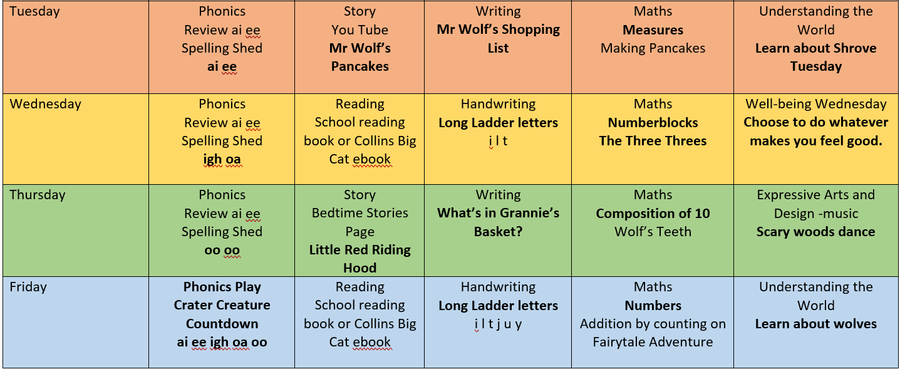 We recognise that in order to deliver home learning we are exposing children to rather a lot of screen time. As a school, we have decided to make Wednesday afternoons screen free. Please choose activities that make your child (and you) feel good. No need to send it in - just enjoy 'Well-being Wednesday.'