Nurturing successful learners; growing responsible citizens
This page sets out our overarching aims and structure for the curriculum at Carlton Miniott Primary Academy. If you would like to know more about a particular subject please go to the Curriculum menu and select the subject you want to look at.
Curriculum Overview
When designing our curriculum there were three main things that we wanted to achieve.
Raise aspirations and the drive to be successful

Develop the children as good citizens in the school and wider community

Deepen the children's learning with real life experiences
Curriculum Intent
At Carlton Miniott Primary Academy we want our children to be happy and secure. We want them to love learning and embrace challenge. We believe that the purpose of education is to nurture responsible citizens of the future and to enable them to make a positive contribution to society and care for the wider world. Our curriculum is designed to inspire ambition in our pupils, to broaden their horizons and empower them, with the knowledge and skills, to achieve success in their future lives.
We have designed a broad, balanced curriculum that:
provides clear progression in subject knowledge and skills​ and enables children to gain deep understanding and sustained mastery as they move through school.
​ is filled with rich, first-hand, purposeful experiences​ that excite, engage and inspire our pupils.
allows time and space for creativity and imagination.
is outward-looking and uses environments and expertise beyond the classroom
has a local, national and global dimension
How we implement our Curriculum
Our curriculum has three main elements, knowledge, skills and values. To ensure that the children see the links in what they are learning as they progress through school, and what is taught becomes part of the children's long term memory, the learning is linked to deepening concepts that are revisited every year.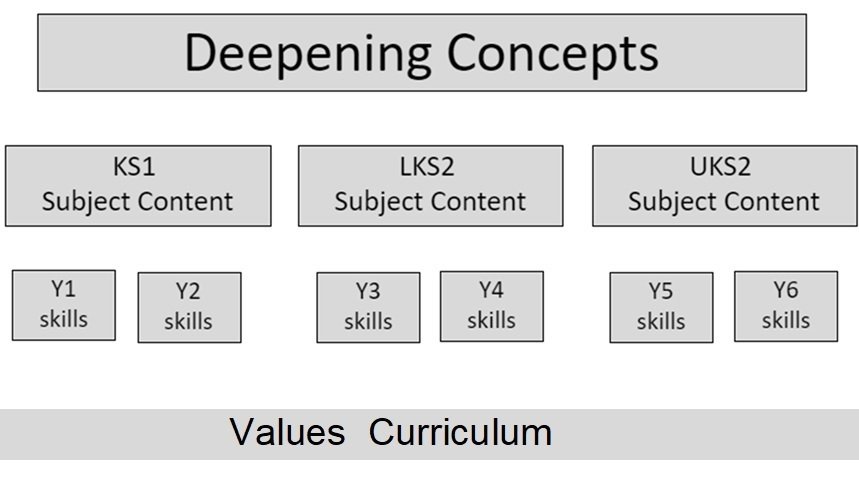 Deepening Concepts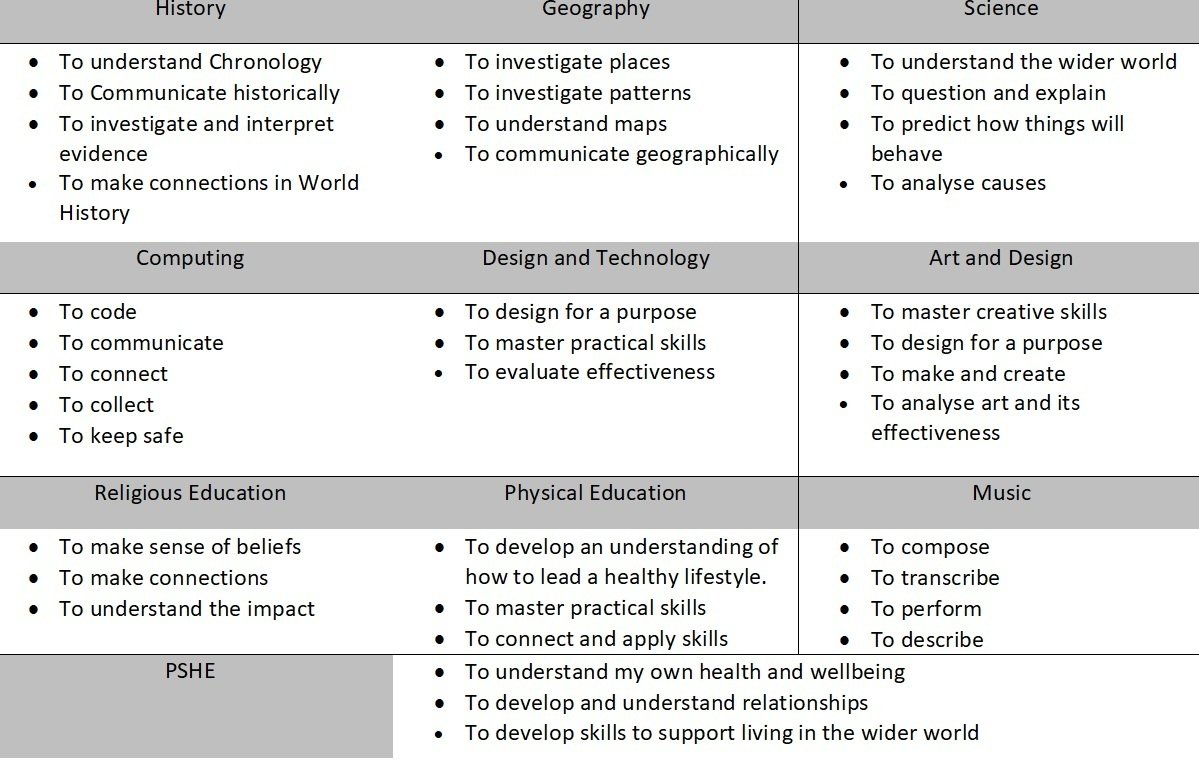 The knowledge or subject content for our curriculum comes directly from the National Curriculum. The skills part our curriculum is based on 'The Rainbow Continuum' by Liz Greenside. Both the knowledge and skill curriculum can be found in the planning documents at the bottom of our subject specific pages The values curriculum comes from the work below produced by the school stakeholders.
Values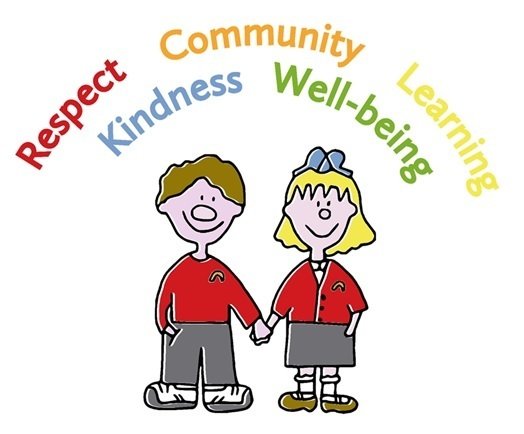 Child-centredness
Children are at the heart of all we do.
Because we value child-centredness…
We make learning fun by planning exciting, engaging activities and lessons that are responsive to children's interests.
We offer a wide variety of learning experiences and learning contexts, as part of a broad and balanced curriculum.
We offer a wide range of extra-curricular clubs.
We nurture individual talents.
We use accurate assessment in order to tailor our teaching to individual needs.
We take time to listen to children and give them a voice in decision making.
We encourage children to be imaginative and creative by allowing them freedom and choice.
We ensure that all children develop warm, secure relationships and feel a sense of belonging.
Respect
We place great emphasis on respecting ourselves, each other and other people within our school community and wider society.
Because we value respect…
All members of our school community treat each other with mutual respect.
We are polite and well-mannered.
We celebrate diversity and foster understanding and acceptance of people of all faiths, races, gender, ages, disability and sexual orientation.
We are inclusive of each unique individual and promote all forms of equality.
We have high expectations for the way in which we treat our property, resources and equipment. We maintain a tidy and orderly school environment.
We promote the British values of Democracy, Rule of Law, Individual Liberty, Mutual Respect and Tolerance of those of different faiths and beliefs.
Kindness
We encourage our school family to show compassion and to care and for other people and the world around us.
Because we value kindness…
We find out about local, national and global charities and support their work.
We embrace opportunities to 'give something back.'
We provide opportunities for older children to care for younger children.
We do not tolerate bullying and act swiftly to eradicate it.
PSHCE teaching helps children to develop empathy and understanding of the feelings and actions of others.
Community
We endeavour to work together harmoniously as a school family and to recognise our roles and responsibilities within our local community and as global citizens.
Because we value community…
We encourage children to work collaboratively on projects in order to develop effective teamwork skills.
We have close links with local businesses and churches.
We develop opportunities for children to take part in community projects in order to foster care and responsibility for our local area.
We provide opportunities for our children to work with pupils from other schools.
Learning
We encourage ambitious learners who aim to be the best that they can be.
Because we value learning…
We provide a positive, supportive, safe learning environment where children are willing to take risks and are not afraid to make mistakes.
We challenge children to aim high.
We promote growth-mindset so that children believe that they can achieve anything if they work hard at it.
We have high expectations of pupil progress and achievement.
We teach children to be responsible, resilient and resourceful so that they can become courageous, independent learners.
We celebrate achievement in all areas of the curriculum.
We help children to make connections within and across subjects by developing thematic units of work.
Well-being
We want to ensure that all members of our school family are healthy and happy and we do all we can to promote complete physical, mental and social well-being.
Because we value well-being…
We ensure that our school curriculum promotes well-being by including opportunities for children to…
connect with other people.
keep learning.
stay active.
give to others.
take notice of the world around us
care for our planet
We aim for our staff to achieve healthy work/life balance.
Our Themes
Our Curriculum starts in our Reception Class. We plan carefully to ensure that children's learning is effective, exciting, varied and progressive. Our curriculum is mapped out across the year to ensure that children have opportunities to develop knowledge and skills in all the areas of learning, progressively building towards the Early Learning Goals and beyond. Our over-arching themes enable us to plan experiences that will excite and motivate children to investigate and explore new learning. Our themes are responsive to children's interests, current events and the world around us.

From Y1 to Y6 the themes are on a one year cycle. Maths, PE, and Computing are not taught within the theme and other subjects may be taught outside the theme if it is more appropriate. Themes are driven by History, Geography or Science. These drivers also form the basis of the English units covered.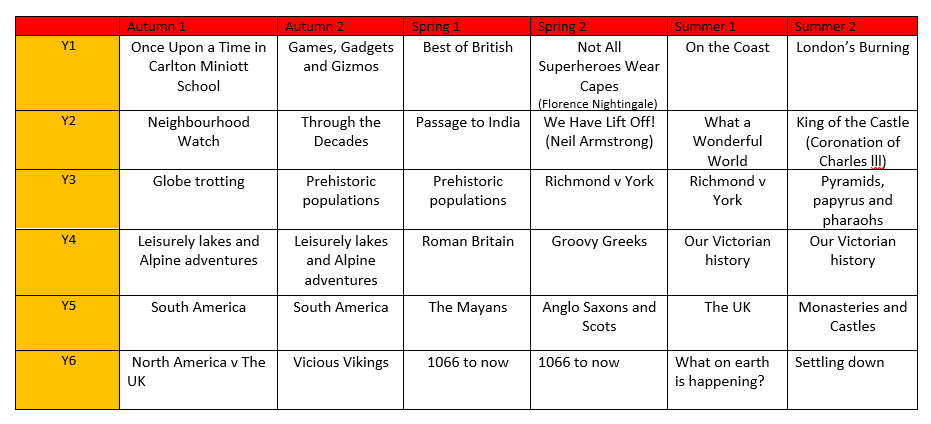 Each theme starts with a launch day to enthuse the children about what they will be learning. This day is usually a very practical and it's aim is to inspire the children about what they are going to be learning. The theme ends with a landing day where learning can be celebrated and this usually involves the parents joining the class to see the work that has been done or watching an event prepared by the children.. During each theme the staff try to do an educational visit or have a visitor or experience into school. We use specialists in PE, MFL and Music to provide consistency and depth in the learning of these subjects and the develop performance in Music and PE.

Relationships and Sex Education
The Relationships and Sex Curriculum has been updated in March 2021 through consultation with staff, parents and children. We will be teaching through the school by using a range of children's books and resources and details of these can be found on the Relationships Education Tab on the Curriculum Menu or in the policy below.
Recovery Curriculum
During lockdown last year we used Microsoft Teams as our home learning platform. We were able to provide much of the curriculum through assignments, live lessons, projects and feedback from teachers. We had high engagement rates from our children which meant we didn't have large gaps to plug from individual children who didn't engage. On return to school we used our 'Keep up, not catch up' approach on a daily basis to support groups of children who needed more support with understanding what had been taught or needed to repeat some of the learning that had taken place. We used the `Catch Up' funding to pay for extra staff to provide 1 to 1 or small group support. to our target children. We tailored our maths curriculum by using the White Rose Recovery Curriculum where we felt it was necessary. we identified certain areas of the Science curriculum that would need further teaching before normal topics could be taught. We are using Flashbacks at the start of each lesson to ensure the children have a good understanding of the lessons covered online and to enable teachers to identify where further teaching is needed. French had not been taught online and so this year a specialist French teacher is teaching all the children in KS2. Target children are still being supported by staff and the Recovery Premium and School led Tutoring will enable us to support these children further this year.. .