School organisation during COVID
On Tuesday 8th September Carlton Miniott Primary Academy opened for all pupils.Click here for the letter that has gone out to parents.
To keep children and adults safe we will be staggering the start and finish times to enable those dropping off and collecting to social distance. These times will be: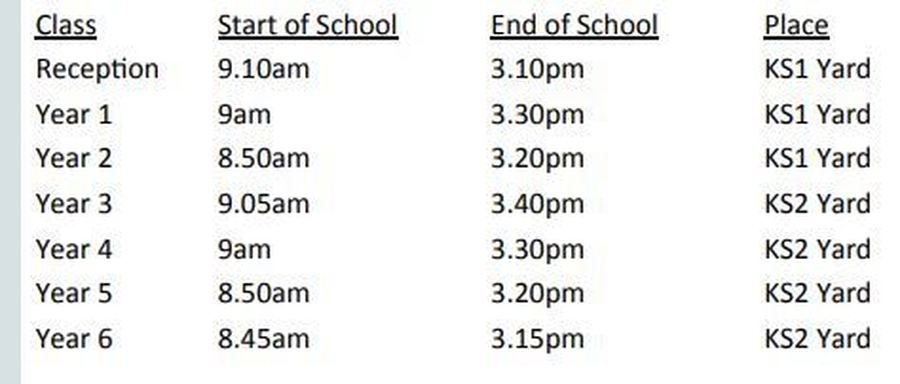 In planning to open up the school safely to all our pupils we will be following the Government and Elevate guidelines. All children will be expected in school on the first day of term unless they need to follow quarantine rules, following a holiday to a country on the Governments quarantine list. If your child falls into this category please inform the school office. To help reduce the risk of the virus spreading, or the school having to close, children will be kept in their class bubbles wherever possible. The classes will not mix at playtimes or lunchtimes and there will be no whole school assemblies for the time being. The staff will continue with their frequent cleaning of surfaces and touch points in the classroom and there will be regular hand washing.
School uniform
Your child will be expected to wear the school uniform as normal, including school shoes. Please provide your child with a PE kit that is brought to school on a Monday and taken home for washing on a Friday. Please ensure your child always has a PE kit in school as they will not be able to borrow kit from other children.
Arrival at school
Please bring your child to school at the staggered start times above.. KS1 children must be dropped at the metal KS1 entrance gate and KS2 children at the main entrance gate. A member of staff will be there to direct the children to where they should line up. Markers will be on the playground to show the children where to stand. Parents must not come onto the school site and must leave as soon as they have dropped their children off. We would encourage you to walk or cycle to reduce the number of vehicles outside the premises. Parents and children must not congregate around the school entrances. Parents with siblings may leave them with a member of staff at the main entrance gate, when they drop off the child expected to be at school at the earliest time.
Collection from school.
Children in classes 1 and 2 must be collected from the KS1 playground and children in classes 3,4,5,and 6 from the KS2 playground. Please help keep everyone safe by observing the one way systems and social distancing from other adults while waiting for your child to come out of class. Please leave as soon as you have collected your child unless you are waiting for a sibling.
Face Masks
At the present time the Government guidance is that primary aged children do not wear face masks in school. However, if you wish, your child may wear a face mask to school but must remove it once on the school grounds. To prevent the risk of spreading germs on the mask your child must place it in a sealed plastic bag with their name on and seal it. Then this must be put in their school bag. They may then put on their face mask again when you collect them on the school playground. These masks should be washed regularly. Disposable face masks must be thrown away in the lidded bin in the classroom on entering school. School staff will not be wearing face masks in school unless they are looking after with a child with Coronavirus symptoms.
School Dinners
School dinners will operate as normal and will continue to follow last term's menu. They will need to be ordered and paid for via ParentPay in advance at all times. Children may also bring a packed lunch but we ask that you send these to school in a plastic container that can be easily cleaned.
Water Bottles
It is really important that children have access to their own container for drinking. Please ensure your child comes to school each day with a named water bottle. These can be purchased from the School Office for £1.
If a Child becomes Ill in School
Children must not come to school if they are ill or show any Coronavirus symptoms. If a child becomes ill while in school they will wait to be collected away from the other children. You will be contacted and we ask that you collect them as soon as possible. If they are showing any Coronavirus symptoms, high temperature, diarrhoea, vomiting, persistent cough, sore throat or a strange rash, or loss of taste we ask that you get them tested as soon as possible.
If a Child or Member of Staff Develop Symptoms
If a child or staff member develops symptoms compatible with Coronavirus, they will be sent home and advised to self-isolate until they can be tested. School must be informed immediately of the results.
Where the child, young person or staff member tests negative, they can return to school. Where the child or staff member tests positive they will be required to self-isolate for 10 days and the household they live with for 14 days. They must not return to school while they are displaying symptoms.
The rest of their class will be sent home and advised to self-isolate for 14 days. The other household members of that wider class or group do not need to self-isolate unless the child, young person or staff member they live with in that group subsequently develops symptoms.
As part of the national test and trace programme, if other cases are detected within the cohort or in the wider setting, Public Health England's local health protection teams will conduct a rapid investigation and will advise schools and other settings on the most appropriate action to take.
Track and Trace
School will be working with the Track and Trace service. You and your family must be willing to self-isolate if you come in to contact with someone with Coronavirus. If a member of your household tests positive you must be willing to give details of your contacts to the Track and Trace Service.
Parents in School
At present parents will not be allowed in school unless they have made a prior appointment with the School Office. Teachers can continued to be contacted by email or telephone in the usual way.
After-School Clubs
As the children need to be kept separate in school there will be no after school clubs for the time being. We are trying to make arrangements for a limited before and after school club with the Learning Tree and there will be further information about this. We will monitor the situation as the term progresses to see what extra opportunities we can offer the children.
If a Class has to Close
If there is an outbreak of the virus or a member of staff is ill we may need to close a class. If this happens once again learning will be online. We are going to improve our system of online learning enabling children to hand in their work for marking and for individual feedback to be given to children by their teacher. For this we will be changing the platform we use to Microsoft Teams. There will be more information about how this will work in the next few weeks.
Information from the Government
Please click here for a Government leaflet about school re-opening in September
Please click here for a Government document for Parents about school re-opening.